Houses for Ukraine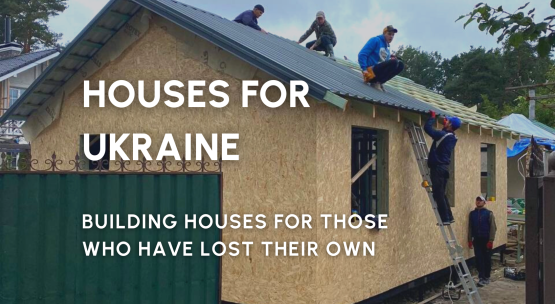 Thursday 01 December 2022

15:12
The battle of Irpin killed over 300 people, and thousands saw how their home, with everything in it, turned to ruins under the bombs. Now, we're helping them build new ones.
We are so thankful to all who have donated and keep donating to our Ukraine Crisis Fund. Beyond the initial refugee crisis, the long-term devastation of the war keeps affecting millions of Ukrainians, such as lack of housing, food, and clothes... Given the need, that has become the main focus of our help, sharing Jesus in words and in action.

One of our projects takes place in Irpin, a city on the outskirsts of Kiew that saw one of the worst battles of the war in Spring. Hundreds of houses were destroyed by the bombs, leaving thousands without a home. Now, the cold winter has made their situation even more serious.

In collaboration with our partners in Irpin, we are building houses for those who have lost their own. Many of them are our brothers and sisters in Christ, and we want to be part of God's provision to their lives. Thanks to our contacts there, we can build a house in 3 weeks, and they can work on several houses at the same time. Visit our social media to see pictures of the houses we are building, and the workers giving their all to make it happen.

Join us to help rebuild Ukrainian lives!
Pray 🙏🏼 Give 💸 Share 🤝🏻