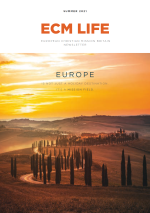 Find out more about what God is doing in Europe today by receiving our magazine for free.
Getting involved starts with knowing what's going on. Three times a year we publish our magazine called 'ECM Outreach' sharing up to date stories of what God is doing in people's lives across Europe.
You can subscribe here. Or you can read it below or download it here.
Many thanks for your involvement in ECM's mission. ECM applies strict rules to protect the privacy of people like you who are in contact with us and have shared their contact details with us via forms or otherwise. To this end, we have drawn up a Privacy Statement in accordance with the new European GDPR regulations.
ECM will record your details in order to fulfill your request to us
ECM will not provide your information to third parties without your explicit prior consent, unless we are obliged to do so for legal reasons or a court decision.
ECM may use the data you provide to inform you about the progress of its mission in Europe, but not without your agreement.
Click here for the complete ECM Privacy Statement