Church Planting in Slovenia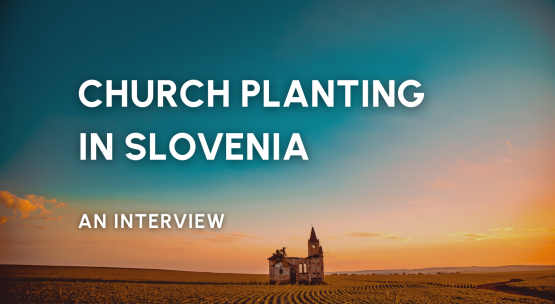 Freitag 14 Juli 2023

15:06
Sebastian Forjan alongside his wife Glorija are church planters in Radovljica, Slovenia. They open their hears in this interview and share with us about their life and their vision.
What is the vision for ministry that the Lord has given you?
To share the glorious Gospel in northwest Slovenia, to make disciples of Jesus and to plant new churches in a region of 200,000 people where there are only 4 evangelical churches. Over the last 3 years, the Lord has been encouraging us to care for believers and church leaders who are struggling with trauma and mental health issues, such as depression or burnout. I know personally how important it was when my mentor walked with me during hard seasons and shared Gospel truths. My desire is for other pastors/church leaders to walk with others during trials and storms, and to be refreshed in their faith, so that they will lead and serve well with full of joy.
What new initiatives are coming up as you faithfully serve your community and the Lord?
In Slovenia, there are around 45 evangelical churches to serve a country of two million citizens. We are the fourteenth least evangelised country in the world. There is a big need and opportunity for new churches, so I am working together with other leaders to establish a national church planting network. The main goal of this network is to connect, encourage and share resources for new church plants in Slovenia.
Why ECM?
There are many reasons why Gloria and I decided to partner with ECM but to put it in one sentence it would be, they loved us, cared for us and provided resources that we needed in our calling.
What have been your biggest encouragements?
We are encouraged to see a new church plant in a city where the last Protestant movement was destroyed after the counter-reformation at the beginning of the 17th century. God is at work in our region and brings people to Himself in many ways, and even sometimes via the internet. I have witnessed God's goodness and faithfulness after seeing Gloria healed after burnout.
How can we pray for you?
Pray for us to boldly proclaim the Gospel to neighbours and our local community. Pray for the preparation and planning for the church planting network that we want to see in autumn. Pray for energy and for more workers because there are many opportunities, but the workers are few. Thank you for standing with us.