They were living in a 15m2 hut...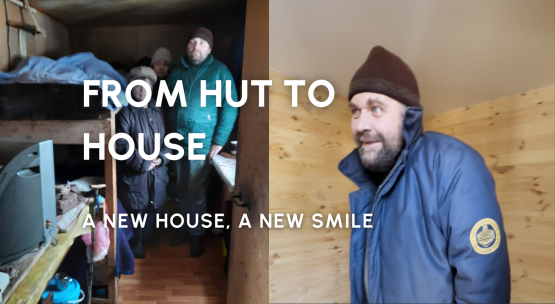 Freitag 24 Februar 2023

11:34
Artur and his family were miraculously saved when a missile fell into the basement they were taking refuge in, but did not explode. However, the next one brought their house to ruins. They had to spend many cold months living in a 15m2 hut, but thanks to God and to your donations, they have a house now.
"On March 23rd, the Russians bombed our area. We went down to the basement for shelter. When we were already in the shelter, a missile fell there but did not explode, and the next missile fell into our house and destroyed it. Later, we cleared the basement and moved here (a garden hut) to live."
The winter has been long and hard in those conditions, but now this family has a new house, thanks to God, and thanks to you. The video below shows the moment Artur enters into his new house, as well as a quick virtual tour of the house. Praise God for the help we can give to people like them!
The emergency housing project is building prefabricated houses for families who have lost their house in the war in Irpin.
Thank you for being a part of this 👉🏼 ecmi.org/ukraine-crisis
🙏🏼 Pray
💸 Give
📣 Share