The Irpin church: a testimony of love and service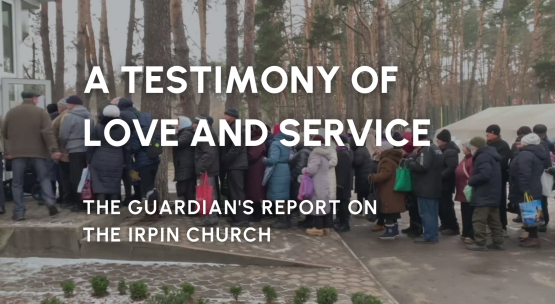 Montag 08 Mai 2023

12:42
A journalist from the Guardian newspaper reports the work of the Irpin church during the work. We praise God for the good testimony of this church during the war. "Dear children, let us not love with words or speech but with actions and in truth." (1 John 3:18)
"Elsewhere damaged buildings are being repaired, cranes and work crews busy. But while the ground war long ago receded from Irpin, the economic consequences of conflict are still being felt sharply in a town where the population has been swelled by internally displaced fleeing the frontlines in the south and east.
The most visible sign of the poverty crisis can be found at a protestant church in the town where priests have set up six distribution centres for free bread across the area, the busiest in Irpin itself. There, on most days, about 500 people can be found queuing for a free loaf, with tables and a tent also set up outside the centre on the day the Guardian visits, offering free secondhand shoes, clothes and children's toys.
One resident of Irpin, Veronika Pravyk is looking through the clothes and trying to find free nappies and baby milk for her toddler, which are sometimes available but not today. She tells a typical story. Working in retail before the war, the 30-year-old lost her job and fled with her family to Spain for six months where she burned through her savings before returning to Ukraine in the autumn.
"I'm not working but my husband is," she says. "But all the prices have gone up because of the war and my husband's salary buys less than it used to because of the falling exchange rate with the dollar. We still have to find the money to pay for our apartment and to heat it during this past winter. I just never imagined we would be living like this. Before the war we managed everything. It's very difficult and everyone is suffering the same."
In his office in the church, the pastor, Vitali Kolesnyk, who organised the bread distribution, which takes place five days a week, with his colleague Vasyli Ostriy, describes the situation in Irpin. One of the biggest private employers, he says, was a wood carving business with a workforce of 400 spread across three sites, but its factories were badly damaged during the fighting.
It relocated to western Ukraine and as a consequence the workers in Irpin were made redundant. "A lot of people are ready to work for peanuts here," he says. "The salaries are already less [than they were]. But people will do anything to earn some money."
While he says that some of those coming for bread are internally displaced, he offers an anecdote that describes how people are trying to manage their dwindling resources. "You see some people come in cars for a free loaf of bread that would cost $1. That gives you an idea of how carefully people are watching every penny spend. We talk and pray with people about what is going on. They talk about the economy and tell us how hard it has become."
The economist Olena Bilan sees a deepening crisis, but says that without a huge package of financial support from the international community, including pledges worth $43bn (£34bn), the situation would be worse.
"We've seen GDP decline by 30% in large part because Ukraine exports 80% of its goods through ports it no longer has access too. We've had inflation of 26% – again which could have been worse – but people's salaries have also been flat and the currency has devalued against the dollar by 20%. The biggest challenge is going to be how to create new jobs."
In Irpin, the long queue, snaking under the trees, to pick up loaves imprinted with the word "victory" is thinning. At one of the clothes stalls, a church volunteer, Larysa Kuzhel, 58, is not optimistic.
"I think it is going to get more difficult especially for the younger people. The pensioners who you see here get support. It's only $50 a month but it is something. But it is the younger people who have lost their jobs who are really suffering.""
Read the whole article here: https://www.theguardian.com/world/2023/apr/30/ukraine-war-poverty-irpin-pawn-shops-bread-queues