Angry and Grateful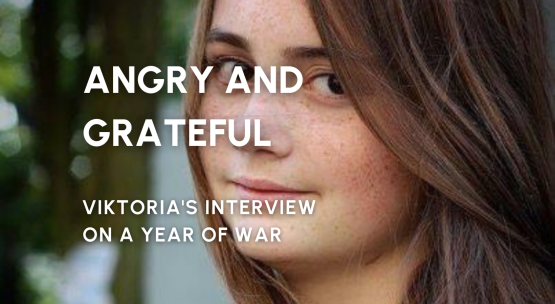 Mittwoch 15 März 2023

10:04
Viktoria in Ukraine on 12 Months of War. "God can handle all my emotions", says Viktoria Haviley, who reveals the personal and public impact of continued conflict. Listen to her interview or read the highlights here.
"Devastating."
Viktoria Haviley needs only one word to sum up what the past 12 months have been like for her and her homeland, Ukraine.
"Devastating."
Viktoria is part of ECM's New Hope team in Ukraine, working in digital ministry with teenagers.
In person, she also loves to help children to grasp the love of Jesus and encourage their faith to grow.
From her home in Lviv, Ukraine, Viktoria walked Australian radio ministry "Hope Mornings" through what many Ukrainians have experienced since Russia invaded their country at the end of February, 2022.
"We've lost so much; so many people lost their families, their loved ones, homes and jobs," Viktoria said.
"Those of us who were more 'lucky', as I am, that live far away from the frontlines, still we lost our sense of security, our plans, our dreams."
Struggling with "survivor guilt" during the first few months of war – Lviv is about 1000km from the war's frontline – Viktoria explained how processing the continuing conflict has stirred a surprising outlook.
"As a Christian, now I guess I try to accept every day with gratitude.
"Try to turn this guilt into gratitude and just to be thankful for each moment and each new day.
"To trust God that he knows best and he is with us."
Young Ukrainians and salvation
Viktoria facilitates Christian courses online, as well as answering questions and having chats about all sorts of deep, important things.
She has noticed a change in the way some young Ukrainians are approaching this life and the next.
"What has made the biggest impression" upon Viktoria are messages received from young people "raised in church but along the way they started doubting Christian faith".
"They shared that they were thinking how they're still a young person, so I can deal with all those salvation issues later. I have my whole life in front of me.
"But when there is war and the possibility of death at every corner, they shared that they have to be sure of their salvation.
"They have to resolve all those issues they have with God now.
"I saw many young people coming back to faith, rediscovering the beauty of relationship with Jesus and how that relationship can sustain us in difficult times."
"God can handle all my emotions"
Through her church and online, Viktoria had been involved with many young people and their spiritual development.
Although she understood why her work needed to stop during the first few months of war, Viktoria did not understand what God was doing.
"To be honest, when the war started, I was very angry with God," Viktoria said.
"I was praying and saying, 'What will happen to the children?' Especially the children we used to work with."
Without dismissing the harrowing situation Ukraine continues to confront, Viktoria often is still able to highlight positive aspects of the past 12 months.
Along with those who returned to the faith they were raised in, Viktoria pointed out that children and teens have learned to serve others.
Some have also shared testimonies about how God "has answered their prayers".
Viktoria prays God will heal the wounds of war inflicted upon the young.
Viktoria prays God will heal the wounds of war inflicted upon the young. The concern and care she has for the youth of Ukraine is palpable. Pained. Real.
Personally, Viktoria also has seen God at work in her own life, through prayer, psalms and the power of unfiltered emotions.
Like so many around her, Viktoria has been angry and full of questions.
She managed to find some comfort and answers in the God who she knew was listening and involved.
"When I didn't have any words of my own to pray, I would offer the psalms. I was able to pour out all the anger and ugly emotions before God and it's during a moment like that I'm so grateful that God is exactly who he says he is," she said.
"He can handle all my emotions and his justice is an expression of his love.
"I cannot imagine how you can go through all of this not having this foundation that Christians have in Jesus."
Listen to the full interview with Viktoria Haviley for Australian Christian radio Hope 103.2 here.