Life and Ministry in Times of War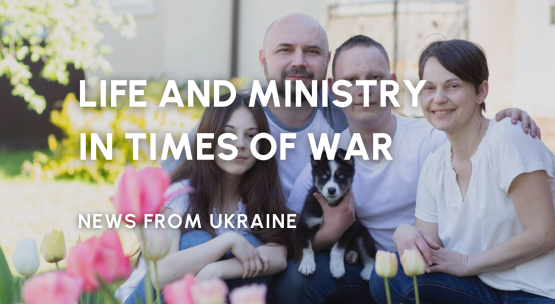 Mittwoch 28 Juni 2023

16:00
It's been a while since we sent out our latest information letter. It's not because we have nothing to share with you. On the contrary, many things have happened and must be done, and many more await...
"We feel that we simply need some good rest and sound sleep. Unfortunately, proper night sleep has been a luxury for us for the latest several months as the russians added a new massive attack tactic by attacking our land at night. As they do it nearly every night, we all feel drained emotionally and physically and will appreciate your prayers.
Kherson
At night on June 3, they caused massive flooding by destroying six armored concrete pillars of the Hydroelectric Power Plant dam and blowing up its turbine area in Kahkovka, Kherson area. The devastation affected by the water is nothing but ecocide and genocide, killing people and animals and smashing everything in its way. As reported, about 4 000 people have evacuated from the area to other places, including Lviv; over 20 died, more than 30 are missing, and numerous are wounded, including children. Realizing the need, New Hope Ukraine and our local church organized and sent a generator, three power stations, several boxes of medicine, and 100 pairs of children's rain boots to churches in Kherson. As the water goes off, dreadful things left behind by the enemy's troops reveal. At the same time, many locals stay and work hard to renew their watered places demonstrating remarkable courage and resilience.
Church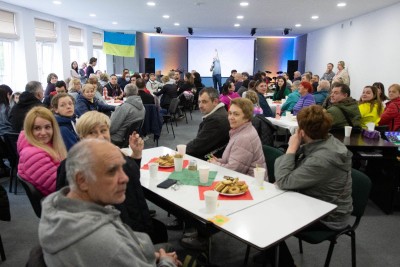 As a family and a church, we don't stop serving children, teens, and families. Reaching out through work at the preschool, English classes, clubs, neighborhood picnics, meetings for the Internally displaced people, and morning women's prayer meetings as a follow-up - are the events we will remember from the pictures taken.
As you add the countless private talks and prayers, phone calls, various church activities, and physical work - you have the whole concept of how our routine looks like these days. And all those news about reoccurring massive attacks and deaths pile on more negative emotions and feelings. As Iryna, our children, and I sit to read the Bible, talk and pray, we encourage each other that we wouldn't make it without our Lord and the family we have in Him.
Encouragement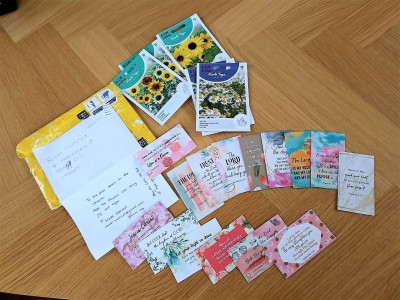 A few weeks ago, we got a mail from Mandel, a person from the Netherlands we don't know personally. In the envelope, we found a bunch of inspirational Bible verse cards and some packages with sunflower and chamomile seeds. Mandel, if you read this, we want you to know your letter was SO hopeful, encouraging, and timely! We can feel God's care and love through all of the notes you, my friends, email, post, or text us! Thank you so much for standing with us!
A little positive
For almost 19 years of the marriage, we haven't had a more giant or independent pet as a parakeet. We didn't think of having any until some time ago. To cut the story short, on one of the Sundays in the church in mid-April, one of our friends shared pictures of the puppies (to give away) that were left orphans because their mother died at the delivery. We didn't think long and went to get (or, as we thought - to choose) a puppy the following day. We didn't choose but were chosen by the youngest among the three cutest black Siberian Husky (even though not purebred) puppy girls.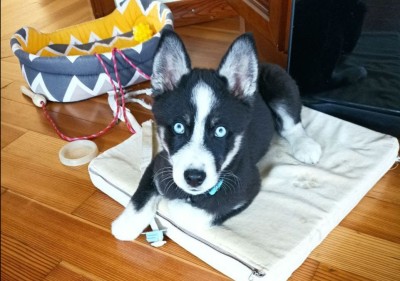 The whole night before, our children were busy selecting the proper name. One of the options - Nika (Nike - a winner) was confirmed after we knew the date of the puppy's birth - December 24 - the day when the large-scale war began. Nika has become an absolute joy and a reminder for all four of us that Victory is not only about winning or beating the enemy but caring about our loved ones and those who left orphans relationally, emotionally, and spiritually. Despite some (or rather many) radical changes in our daily routine, I didn't regret a single moment of having a pet, as I can see my kids' happy, smiling faces as often as ever since the beginning of the war.
Family
At some point in the war situation in my country, I felt guilty because, in our safer location, we could have church gatherings and activities, do camps, occasionally invite friends and families in the neighborhood for picnics, take our friends or visitors to cafes or restaurants, do gardening, even have our children GO to public school on the particular days of the week and be at the music school graduation event - all the activities the ordinary people normally do.
At the same time, I realized that non of us were living normal lives. With the horrible war my nation and country are living through now and the reality of death so near; my kids missing classes and having to rush to the school bomb shelter because of the air raids going off again and again, the very need for having a bomb shelter in every school or kindergarten, people in the hospitals being transported to the underground bomb shelters every time the siren goes off, windows trembling and dangling and noisy (bomb dropping like) sounds of the air defense operating to protect by hitting the drones or missiles aiming to destroy and kill even here, in our so-called safer place.
Current situation
Like many other central cities, our safer place Lviv was attacked several times last week. The enemy continues aiming at the military and infrastructure objects, leaving hundreds of families in the cities, including Lviv, without electricity and water, destroying the building blocks and killing more and more civilians. I feel amazed to watch the perseverance and persistence of people in doing the searching work, fixing the problems caused, and watching my friends and team faithfully serving others. I humbly and boldly say that nothing can take away my confidence in my God and my right to live every day to His fullness and do what I can to do as a parent, pastor, and person.
Friends, please know that we keep each of you in our prayers.
Pray
- We would appreciate your prayers for the Children's Bible Summer day camp on July 3-7 and the team involved.
- Please, pray for the liberation of my land as Ukrainian soldiers are gradually "gaining ground" by retaking small towns and villages from russian troops. It's heartbreaking to realize that this offensive will be bloody and brutal, as there are many of those who fight for my country I know personally. We trust that God is orchestrating the whole situation, including the processes in russia.
- Also, please, pray for the prevention of the possible terrorist attack on the Zaporizhia Nuclear Power Plant (ZNPP) by russian troops.
Friends, we appreciate your love, care, and support so much! You are a significant part of God's ministry in Ukraine, especially in this challenging time. Nothing would be possible without your involvement and devotion and the hard work of my coworkers who stay in Ukraine and continue serving the people of Ukraine, like Nazar, Olga, Viktoria, Nastia, Stanislav and his team in Irpin, and many others. I dare ask you to consider supporting some of them prayerfully and financially.
In Christ,
Roman and Iryna"