How long, oh Lord?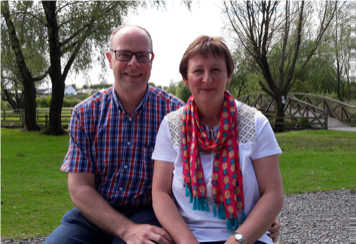 martes 19 octubre 2021

13:11
Jonathan and Nicola McCracken continue to work in the heart of the west of Ireland, Claremorris, where they have been church planters with ECM since 2013.
Due to the COVID-19 pandemic, much has changed over the past year for all of us. Government restrictions, amongst other things, has meant that being close to people feels like something we used to do, but can't do anymore. When will things change? No one can say for sure.
In the Old Testament book that bears his name, Habakkuk is wondering why God doesn't do something in the midst of His people's increasing waywardness from Him. "How long, O Lord, must I call for help?" Habakkuk isn't stuck in the middle of a world-wide virus, like we are now, but in a similar way, he wants to see things changed for the better. He wants the injustice in his land to stop, along with the ungodliness and idolatry.
As church-planters in Claremorris in Co. Mayo, we often pray these days for an end to the virus but, even more importantly, for a spiritual change in the nation and for lives to be transformed by the power of God. When will that happen? We cannot say, but that doesn't mean we have no answer or hope. In the book of Habakkuk, the Lord answered the prophet by saying that an answer would come but, in the meantime, "the righteous will live by his faith…." (2:4).
Just recently, Andy and Rachel Millar have been doing Friday night Zoom meetings with the two little sisters who come to our church. For around thirty minutes, the girls hear a Bible message and sing fun songs. On Sunday mornings and Wednesday nights, we have also been able to meet together to encourage one another in day to day life, share from a Bible passage and pray for one another. Thankfully, local radio enables weekly Bible reflections to be broadcast and the internet enables connectionswith people via Facebook and YouTube videos. These broadcasts and videos have been listened to and watched by people from different parts of Ireland and beyond.
As we seek to make disciples in the West of Ireland, God's answer to Habakkuk reminds us to keep living by our faith and leave the answers to Him. This is an encouragement in days when we live at a distance to others, yet can live closely with God, wherever we are.