A life transformed...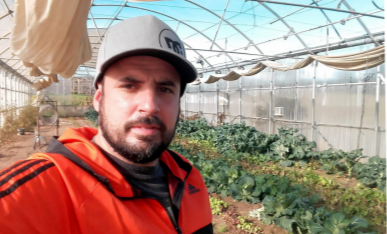 martes 20 abril 2021

17:30
Augustin's life was dark and full of what seemed like insurmountable problems. His story unfolds.
"My name is Agustín; over a year ago, I got to a point where I no longer cared about living.
"One day, though, I decided to ask for help. That's how I entered the Good Samaritan Center. During the first two months, I was a little evasive and distant, but when I truly faced the reality of what the program was about, I just wanted to leave. But I started to come to grips with the things I had done before coming to the center, the sadness I had caused for my mother and brothers, and I felt sorry.
"Thanks to the therapists, I decided to continue in the 12-month program, during which time I kept seeing how my life—my way of thinking and acting—was changing. The members of my family forgave me for what I had done.
"During the time at the Center, there were good and bad days, but as I followed the process, I realized that soon the moment would come to leave. I worked out my "life project," becoming aware of the reality that awaited me out in the world but encouraged about being able to restart my life according to the plans I had made. So, my time to leave approached, but along with that I had a court date coming up for a criminal case that was at the phase of sentencing. I didn't want to go to jail, and I asked God: "Father, please don't let me go to jail." The Lord heard my prayer, and on the day that I faced the judge and the prosecutor, the sentence was less than I had imagined, with no jail time, and I thank God for His mercy!
"Now I am out of the center, I have a job, I have gotten my own apartment, and it has gone better for me than I could have imagined—I see that God is with me. At the beginning I had a job I didn't enjoy at all, and every day I told God: "Thank you for this job, but You know this isn't for me, please help me get a different job." God answered and I am very happy. I also wanted to help someone with the skills I have, and God allowed me to help a local Muslim family set up their kitchen, and that was a dream come true.
"Now I am walking every day with the tools I have learned to use, to keep control over the addiction, and to depend on God in prayer so that He may help me to reach my goals."
If you have been inspired by this transformational project, please consider supporting them by donating online here and praying for their ministry. Thank you.
The Good Samaritan Center's purpose is to provide assistance to those affected by drug abuse, to teach prevention to families and the community and finally, to help people in the process of recovery from drug/substance abuse to facilitate their re-integration into society. In the last 25 years it has directly helped over 550 men and women.
If you would like further information of ECM's involvement in various projects in Spain, please follow this link.