Szczepan & Kamila Cackowski
Together with Kamila his wife, Szczepan (Stephen) runs a a basketball project called Jordan6+ that aims at developing relationships with kids aged 5 to 10 and their parents. Through the project Stephen and Christians around him, are able to build ongoing relationship with the town officials too.

Szczepan was born to a Christian family in northwest Poland. His journey with youth ministry started at age 15 when he began co-leading his church's youth group. For many years, he served and discipled young people, as well as led camps and other outreach events in Poland.
In 2005, he moved to the United Kingdom where he planted a church for Polish immigrants with his wife Kamila and two friends. Szczepan was one of the main leaders of the church for eight years, and he also started a nonprofit organization with his friend Przemek, focused on raising awareness about human trafficking.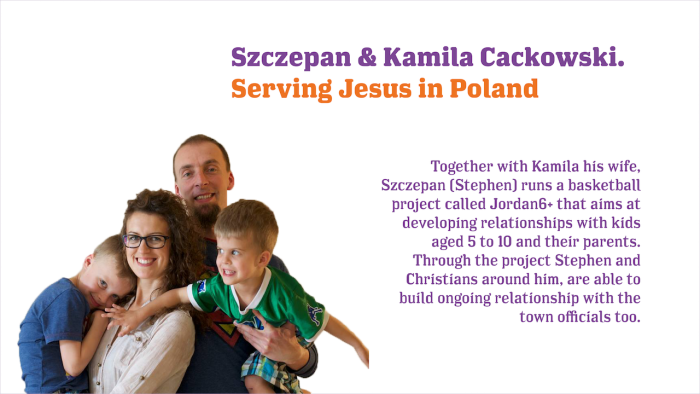 test
In 2015, Szczepan and his family returned to Poland to join a church planting team in Mikołów, where he is responsible for leading worship, outreach work, building and maintaining relationships with town' officials, and, occasional preaching. Together with Kamila, they run a basketball project called Jordan 6+ for kids aged 5 to 10 and their parents. Szczepan also leads worship during various national/international conferences.
Additionally, he coordinates summer mission teams to Mikołów. Szczepan and Kamila have two sons, Noah and Aaron.
I want to see our Christian community on fire for Jesus and passionate for people. I also want to see Mikołów transformed by the gospel. A place where people are touched by the presence of the disciples of Jesus. I want to see the local government go in line with the teachings of Jesus.