Sam's reflections after seven weeks in Eastern Europe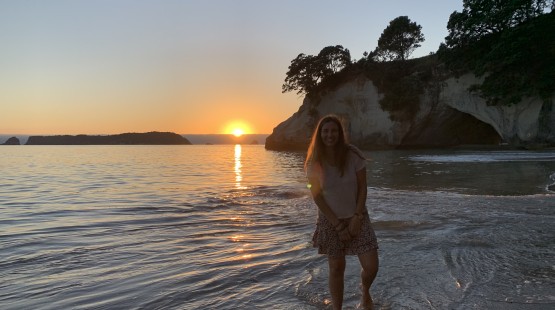 In a recent chat with Sam as she concluded her time in Bulgaria, she shared some highlights from her seven weeks in Eastern Europe:

• Connecting really well with the team in Kosovo and doing ministry is a small rural town.
• Cycling through traffic in Tirana, and having exposure to lots of different ministry spaces.
• Participating in the Sofia International Church's church camp – the bonus was that it was all in English.

Overall she found the trip a good experience and she appreciated seeing a wide range of ministry spaces and cultures. She realised that she is in her element in the mission world.
Her main regret was that she wasn't bolder in learning some basic language, especially while in Kosovo.
Please pray for Sam as she continues her vision trip, and will now spend seven weeks in India with another organisation.
Reflections from Kosovo
Kamencia is a beautiful town of of around 7,000 people in Kosovo, where I spent 3.5 weeks. I spent my time accompanying the local workers in their daily activities. Some of this has included English classes with children, visiting homes, going out for coffee or to the playground with kids etc. It was awesome to just be immersed in the everyday patterns and rhythms of life here in Kamenica.
I enjoyed meeting new people, and it was really interesting to see how similar and yet also how different life is here compared to New Zealand culturally, practically, and religiously. Hanging out with some of the teens girls was fun, and rather hilarious how some things are just the same even across the world in another culture.
As someone looking to see what life on the mission field looks like long-term, it was a privilege to be invited into the home of the workers here. To sit and listen to some of those stories and experiences, and simply to witness how they live faithfully for God here in Kosova.
More about Sam
I am from the Waikato, New Zealand. I live in rural dairy farming community where my family dwells and farms. I am a youth-worker in the local high school, and work various other jobs to help support this.
I am heading on a vision trip throughout Europe (27 Sept - 14 Nov) and Asia to explore what global missions may look like full-time and long-term in the future.
In Europe I will be heading to Kosovo, Albania, then Bulgaria. I will be staying with ECM workers and having the opportunity to listen and learn and participate in some of what they are doing in these spaces. I hope to gauge a deeper understanding of what God is doing there, the people/culture, what life is like as a worker here, learn a whole heap along the way, and discern what the future may look like for me.
Please pray for me to:
Build great relationships and have helpful conversations with the people I meet along the way.
Discern what God is doing, what he is saying, and where he is leading.