ECM's work is not only being done by its workers. The support of the people standing behind them is vital too. You can support the work of ECM and ECM's workers in several ways:
By praying regularly for our workers. To do this, you can register here for the monthly prayer diary.
By donating money to ECM. There are several ways to donate money: on-line, by a direct debit, a one-off gift or a legacy. If you wish to support the work of ECM or one of ECM's workers directly, you can easily fill out one of the forms shown below.
You can make your donation to:
European Christian Mission International
Barclays Bank, Account No: 40969842; Sort Code: 20-61-51
European Christian Mission International is a company limited by guarantee, registered in England & Wales, number 3341959 Registered Charity number 1064037
Donations sourced from UK-based tax-payers are eligible for Gift Aid. This means that for every £1 donated, we can at present claim an extra 25 pence. You can use the Gift Aid form to enable us to claim this.
If you would like to give regularly, you can use the Standing Order form to do this.
In case you wish to make a donation from abroad you can do so in Euros by using these codes:
IBAN: GB52 BUKB 2061 5178 393400
SWIFTBIC: BUKBGB22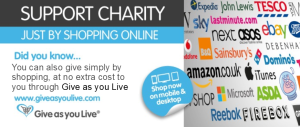 Even by Shopping! Every time you shop on-line you can be donating to ECMI at no extra cost to you. Here's how!
ECM wishes to be transparent about its financial policies and activities. You can see our latest Annual Report here.